With more and more people working in the gig economy, being able to identify sources of customer income can make a big difference.
The gig economy may sound like the new hotness – but what exactly is it and why might it be important to you?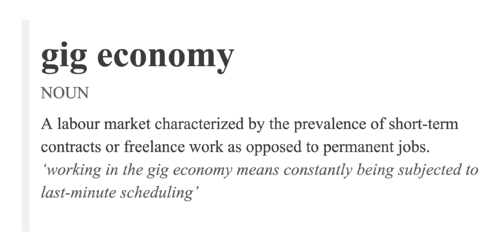 This isn't a new concept. Gig economy work has been known in the past as freelancing or contracting. Even though it's had different names over time, it's all essentially the same for the employee – it provides the ability for people to define their own hours of work and choose which jobs to accept.
All of the app-based companies that allow contractors to deliver your food, drive you somewhere, charge their rentable scooter, or do the tasks you don't have time to do make up the gig economy, and the opportunities for employment with this type of flexible work is growing.
The Victorian Government recently completed a survey on gig work from 14,000 respondents and found that up to 7% of the workforce took on gig work last financial year. Here's the kicker, 40% of those gig workers either considered the pay to be an important part of their overall income or relied on the pay as essential to meeting their basic financial needs.
The list of gig economy indicators is a moving target with new providers appearing regularly; just recently DiDi and OLA have become prominent in Australia. Who knows what next month will bring?
Credit Sense has a comprehensive way to identify when income is derived from the gig economy. Our new decision point will return the average monthly income that a customer receives from gig work so you can get an enhanced view of your customer's income sources.
If identifying gig economy income could be important to your assessment process – we can help!
Contact your account manager or email [email protected] today to get a gig economy decision point added to your reports.