Naveen began university with the goal of becoming an accountant. He soon realised this was not going to satisfy his curiosity and made the fateful shift to software engineering which has led him around the world gaining experiences that have made him one of our most loved Technical Account Managers (TAM).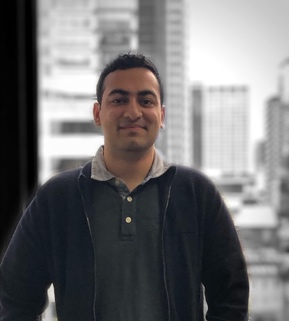 After a globe-trotting career in software testing, web development, product development, sales, and teaching, Naveen applied to become an application developer with us. Through the interview process, it became clear that Nav had that rare combination of strong technical skills balanced with a great personality, communication skills, and a desire to solve real business problems. Unfortunately for the development team he was destined for, our Head of Sales intervened and snapped him up for a TAM role.
And the rest is history.
Snapshot of Naveen
What does Naveen love about working for Credit Sense?
Nav loves challenge and variety in his work and has found the perfect mix of these with Credit Sense.
"It really pushes the boundaries of the skills I've built up in my previous roles, and I love that as a TAM, there's always something different; some new and interesting problem to solve."
Fintech is an exciting sector for Nav, and he loves the client-focus at Credit Sense.
"The way we handle our clients and support them isn't the way I was used to at other IT firms – it's better. So much better."
What new skills has he learned since he started?
Throughout his previous roles, Nav wished he could bring more design skills to the table. Since starting with Credit Sense he's been encouraged and supported to become fluent in design tools like Figma to move solutions forward faster through better wireframes, mock-ups and prototypes.
He's also gained some interesting insights into how lenders use bank transaction data, which have led to some improvements in his own spending habits.
Where to from here for Naveen?
"I feel like I'm only just scratching the surface in this new role, and there's so much more I want to learn" says Naveen, adding that he hopes to one day take everything he's learnt about how we consider the client perspective and go on to create something of his own.
Do you have a passion for solving problems and helping clients, just like Naveen? Are you ready to take your skills to the next level, and kick some goals in fintech? Follow us on LinkedIn to get the latest updates on our current career opportunities, or get in touch directly today!
Topics: Credit Sense, TAM, people